Apologia Educational Ministries
, in conjunction with Summit Ministries, has published a Biblical worldview series, called "What We Believe", for children in grades 1-6. What on Earth Can I Do? is the fourth volume in this series, and we were recently sent the following books to review:
Worldview, quite simply, is the lens through which we view the world. It's the filter we use to process all of the input we receive daily, from television to books to radio to conversations. It's how we make judgements about right and wrong, good and evil. Whether a person realizes it or not, whether they want to admit it or not, everybody has a worldview. One would hope that as Christians, our children would have a Christian worldview. However, they are being bombarded by input that says wrong is right and evil is good. We need to consciously combat this, and this series from Apologia aims to help us do just that.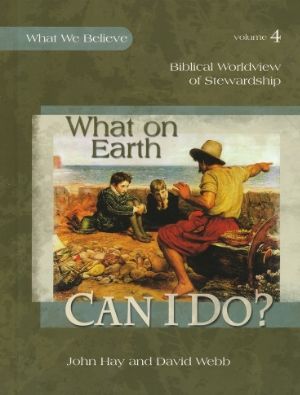 The hardback text is a beautiful, full color book of the quality one would expect from Apologia, this is the heart and soul of the program. As Christians, we are called to exercise good stewardship and to be careful with the things that God has given us and to be careful with our time and talents. What On Earth Can I Do? explores this concept of Biblical stewardship. There are 8 lessons in the book:
Your Story Or God's Story?
Who Put You In Charge?
Will You Be Found Faithful?
Where Is Your Treasure?
Where Does Your Time Go?
Whose Life Is It Anyway?
Why Isn't It Easy Being Green?
What Will Happen When The Master Returns?
Lessons are meant to be completed at a pace that works for your family, but there is a schedule included that suggests a pace of 3 weeks per lesson. Each lesson has several components:
The Big Idea: introduces the main topic of the lesson
What You Will Do: a box that contains what the student can expect to learn in the lesson
Short Story: a story that features children & families working through concepts & ideas using a Biblical worldview
Think About It: questions about the story that check comprehension and cause your child to wrestle through big ideas
Words You Need To Know: vocabulary words that the child needs to know
Hide It In Your Heart: two specific Bible verses your child should memorize
Integrated Learning: stories and articles that are throughout the text that use history, science, art, and other subjects to explore the concept being taught
What Should I Do?: this section gives your child a character trait that they should work on cultivating
Prayer: a written prayer that thanks God for the gifts he has given and the things he has done
Parables of Jesus: the parables of Jesus are turned into a story, and told from the perspective of a character in the parable
Going Deeper: questions about the parable that try to get the child to focus on how they can become better stewards
House of Truth: this is a visual model of a house that has been constructed throughout the four books in the What We Believe series; the Stewardship Wall is added in this book
As you can see, there are a lot of parts to each lesson, and you'll really need to adapt how much you do in each session for your family. You might also need to adapt the questions for the ages of your children.
Your are encouraged to have your child create a notebook as you read through the text, and there are various sections throughout the lessons titled "Make a Note of It." When you hit these sections, you can have your child answer the questions in their notebooks.
The Notebooking Journal, Junior Notebook Journal, and Coloring Book are supplemental resources that are designed to compliment the textbook.
The Coloring Book is a 64 page book of black line drawings for your child to color. This can be used during the lesson as you read (sometimes little ears listen better when their hands are occupied), or after the lesson to reinforce what was taught.
The Notebooking Journal and Junior Notebooking Journal are full color, spiral bound preprinted notebooks for your child to fill out. There are lesson plans included in the front of the notebook that lets you know which pages in the journals correspond to which pages in the text. These are written so the child can follow them. I would consider the Notebooking Journal to be most suitable for grades 4-6, while the Junior Notebooking Journal would be best for grades 1-3.
The Notebooking Journal contains crossword puzzles, Bible verses to copy, pages to record vocabulary definitions, pages to answer the questions from the text, word searches, places to draw or record original thoughts related to the text, mini books to create, and additional activities to do, books to read, songs to explore, and movies to watch. There are pages for prayers and praise reports. The Junior Notebooking Journal contains many of the same things, but simplified for a younger age, and coloring pages are also included. Instead of having single lines for copywork, dashed handwriting lines are used.

I used this program with my younger two boys. While we enjoyed the content of the book and the stories, some of the readings were quite long. This made it difficult to fit into our daily schedule, since we don't typically have Bible as an official school subject (we do Bible as a family in the evenings). We followed the lesson plans in the Notebooking Journals as best we could, though we often had to split the readings down into smaller chunks. This worked fine, but I do think a bit of flow was lost and it will take us longer to get through the book.
I had Micah (4th) use the Notebooking Journal and Nicholas (2nd) use the Junior Notebooking Journal. I think the journals are beautiful, and I would have loved doing them as a child. However, my boys are just not notebooking fans. They'd rather discuss what they read than write about it, and they view crossword puzzles and word searches as busy work. Oh, how I wish they loved these, because they are wonderfully done and make the program very open and go.
Going forward, I think we will just read the book and talk about it. I'm going to see if we can incorporate What on Earth Can I Do? into our family time in the evenings, because Biblical worldview and Biblical stewardship are valuable topics to discuss and learn about.
I think the What We Believe series is a wonderful addition to any Christian home, whether homeschooling or not. We need to make an effort to teach our children to filter what they see and hear through a Biblical worldview, so that they aren't deceived by the lies that they're assaulted with on a daily basis.