I love science experiments. My boys love science experiments. There is nothing cooler than interacting with God's creation and observing what happens. As fun as it is, it can be very disappointing as well. You pick an interesting experiment and gather the materials needed. You carefully read the instructions and then reread them, just to make sure you understand exactly what you're supposed to do. You follow the directions, and then....nothing happens. What a let down! I know I'm not the only homeschooling mom who has spent time explaining what should've happened during a failed experiment.
Amazing Science!
, a 2 disk DVD set from ScienceAndMath.com, helps solve this problem. There are 23 experiments performed:
Color Changing Milk
Egg in a Bottle
Exploring Air Pressure
Inverted Cup of Water
Candle Suction Power
Lift and Ice Cube with String
Unburnable Money
Matchstick Speedboat
Cloud in a Bottle
Reversing and Image with Water
Floating Eggs
Keeping Paper Dry Under Water
Dry Ice Bubbles
Ocean in a Bottle
Build a Motor with Lights
Simple Lava Lamp
Invisible Ink
Density Tower
Soda Can Fizz
Build a Motor #2
The science behind each experiment is fully explained by Jason Gibson. He holds degrees in Engineering and Physics and worked as a rocket scientist for NASA. A complete materials list is given for each experiment, and the materials needed can be found at your local hardware or grocery store, if you don't already have them around the house. Experiments are fun and engaging. My boys were begging to do them after watching the videos, and I'm sure your children will be just as eager. I was already excited about this DVD, and then I saw the price. It's only $19.95! If you're looking for a fun way to add experiments to your science program, or if you need something to help keep your children occupied over the hot summer months, check out this program.
For more reviews of Amazing Science!, go
here
.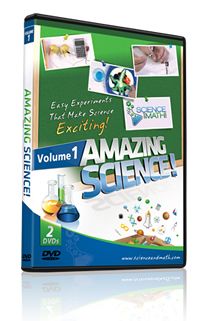 Disclaimer: As a member of the TOS Crew, I received this product, at no cost to me, in exchange for an honest review. All opinions are mine.