When I was in school, we read textbooks for history. Little snippets of information and dates were neatly packaged alongside colorful pictures, and the information was presented in a seemingly random order. I would tell you more about what I learned in history, but to be honest, I don't remember a lot about this subject from my school days. One of my favorite parts of homeschooling the boys is teaching--though it's more "learning alongside" than "teaching"--history. We study history chronologically, so we begin at the beginning and study until we hit present day, and then we start over. We add literature to our history studies, and this makes history come alive.
I'd heard of
TruthQuest
, but had never taken the time to investigate their guides. I was happy when the opportunity arose with The Crew to review a guide of my choice. I chose
American History for Younger Students III (1865-2000)
, because I've been trying to interject more American history into our World history studies. The TruthQuest guides are written from the perspective that God is in control, and that history is, in fact, His Story. This guide is written for grades 1-6, and is available as a printed book for $29.95, or as a PDF download for $24.95.
American History for Younger Students III begins with Reconstruction and ends with Postmodernism, and you'll study the people, events, and ideas that occurred during this time period (the Table of Contents is viewable
here
).
There are 36 sections in the guide, and each one begins with a short (sometimes it's just a paragraph, other times it's a page or so) introduction to the topic of that section (you can view a sample section
here
). Following the introduction, there are book lists. There are non-fiction books, fiction books, and historical fiction books to choose from. There films recommended for some sections, and activity books recommended. There are three ThinkWrite topics in this guide; these are writing prompts that encourage the student to think about what they're learning and write about it.
I love the basic structure of TruthQuest. Chronological history with book recommendations is right up my alley. However, I don't care for the writing style in the section introductions. It is very informal, and while I didn't count, it feels like there are more exclamation points than periods throughout the book. Here is a sample paragraph:
"Oh, I know what you're thinking! You're saying to yourself that movies and shows and government decisions aren't about whether or not people came from monkeys. But guess what! That's not the main part of evolution! The main part is this--it's all about saying there is nothing higher than people. And if there is no God, there is no one to saw what is right or wrong...and everyone can do what they feel like doing! Ack!"
This style is too conversational for me, but I wouldn't discount these guides based on that. The book lists are extensive and can cut out a lot of legwork for those who like to add books to their history studies--I would consider a guide for another age level or time period.
There are 3 Level 1(grades 1-5) guides available, and 8 Level 2 (grades 5-12) available. To read more about them, go
here
.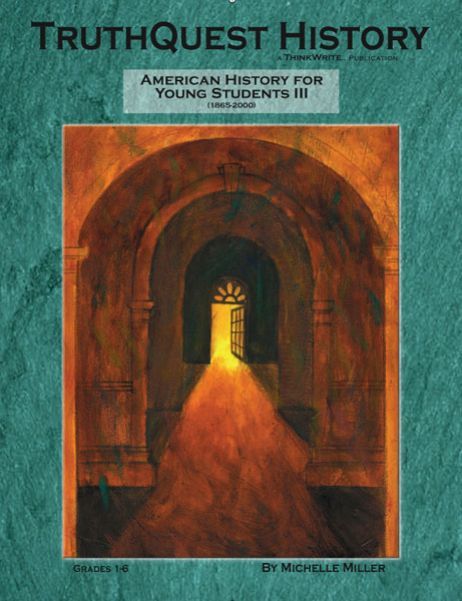 Disclaimer: As a member of the TOS Crew, I received this product, at no cost to me, in exchange for an honest review. All opinions are mine.