Veritas Press
has been one of those homeschool friendly companies that I've liked from the very beginning of our journey. They produce beautiful materials that make me want to pick them up and look them over and use them. I was thrilled when the opportunity arose for us to review one of their
Self-Paced History
courses.
I looked over the options, and chose the
Self-Paced History: Middle Ages, Renaissance, and Reformation
course, since this fits the time period my younger boys will be studying in the fall. This course is priced at $199, and includes access for 12 months. In addition to the online course, we were also sent the
Middle Ages, Renaissance, and Reformation Flashcards
($19.95) for review.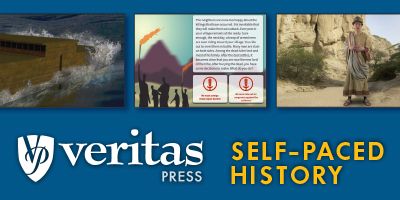 Have you ever wished you could have a passionate, engaging, knowledgeable history teacher come into your house every day and teach your child? This is exactly what the Self-Paced History courses from Veritas Press provide. The courses use interactive lessons, games, puzzles, and quizzes to teach your child history.
The Self-Paced History courses are designed for use by children in grades 2-6. There are 5 different courses available:
Old Testament and Ancient Egypt

New Testament, Greece, and Rome

Middle Ages, Renaissance, and Reformation

Explorers to 1815

1815 to Present
These courses follow the history paradigm that history is best studied by beginning at the beginning and then progressing chronologically through until today. Each course has 160 lessons that cover 32 major events, and you can
view sample lessons for each course here
.
The 32 events covered for each course are the same events that are highlighted on the flashcards. This is handy because you can pull out your hardcopy of the flashcards to review the material your child is learning. These flashcards are full color, with relevant artwork depicting each event on the front. On the back, there are a few paragraphs that detail the event, and there are also resources listed with page numbers if you'd like to read more about what is on each card.
Some of the events covered in the Middle Ages, Renaissance, and Reformation course are:
Barbarian Invasion and Vikings

Otto I and the Holy Roman Empire

Cathedrals in Europe

St. Thomas Aquinas

The Council of Trent
For example, in one of the earliest lessons in our course, the student is learning about St. Augustine. As part of this, they also learn about the Trinity (the teaching is done by a person who is dressed as if they live in the time period) and then have to unscramble a puzzle that gives the meaning of "trinity". The whole course is filled with examples like this, and as a result your child learns while having fun.
A great benefit for you, the parent, other than having the aforementioned engaging teacher, is that the child's work is automatically graded. This allows you to keep track of how they're doing, even if you can't stay by them for each and every lesson.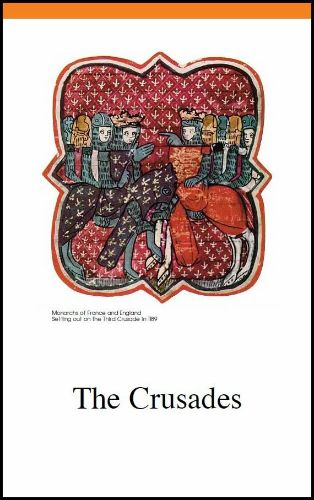 Front of MARR flashcard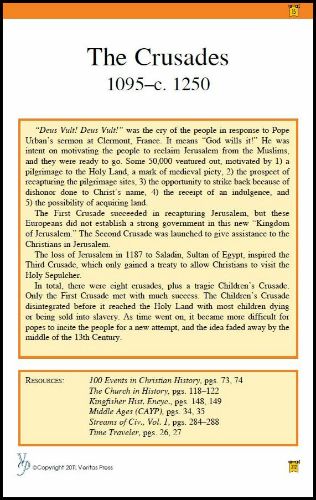 Back of MARR flashcard
I used this course with Micah, my 10 year old 5th grader. I loved that I could have him do his history lesson without me, and I loved that I knew he was learning and could easily see how he was doing, even if I couldn't be around for his lessons. Since I've been working part time, I've been looking for ways to have the boys be more independent. This program fit that criteria nicely.
Micah enjoyed the program for the most part. It helped, I'm sure, that he loves all things Middle Ages, so he's super excited about studying these things for school. There were a couple of the games/puzzles that I had to help him with, so that did discourage him a bit that he couldn't get it himself. The ones he needed help with were mostly things that were timed, and he simply couldn't complete the task in the allotted time (unscrambling words and moving the tiles into the proper spot was one I remember helping him with).
Overall, though, I consider this program to be well worth the money. Whether you're looking for a way to spice up your history studies, or whether you're simply looking for a way to have history be less teacher intensive, this is a program you should consider.
If you have an older student, Veritas Press also has
Self-Paced Omnibus
programs. You can read reviews about all the different history courses and Omnibus I if you click on the banner below.