Several weeks ago, we were given a 6 month
Science4Us.com Online Subscription
to review. This program is priced at $7.95/month, and is designed for children in grades K-2 (or as review for students in grades 3-5).

I decided to use
Science4Us.com
for Nicholas's second grade science curriculum, and as a review fourth grade science curriculum for Micah. For some reason, even though I love science, it gets pushed to the back burner. I'm always on the lookout for science that can be done independently. Science4Us.com caught my attention for this reason.
There are four books of science in Science4Us.com:
Inquiry: covers science skills topics
Physical: covers matter, energy, and force and motion
Life: covers living things and balance in nature
Earth/Space: covers earth and space topics
In each of the four science books, there are many different lessons and activities. For example, in the Inquiry book, your child will watch an animated video of brothers making observations using their senses. Then your child will be asked to draw two different kinds of food: one that is red, squishy, and hot, and one that is long, smooth, and yellow for their digital notebook. Other types of activities include manipulating a 3-D model of the solar system in Earth/Space, vocabulary is taught/reinforced with word scrambles, and in the Life book, they're asked to sort animals into a Venn diagram based on whether they eat plants or animals. Over the course of the program, students will keep a digital notebook, which contains many of the activities that your child completes and saves.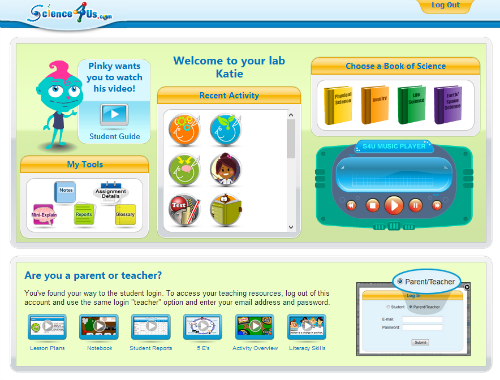 Individual logins and dashboards create a personalized experience for each student enrolled.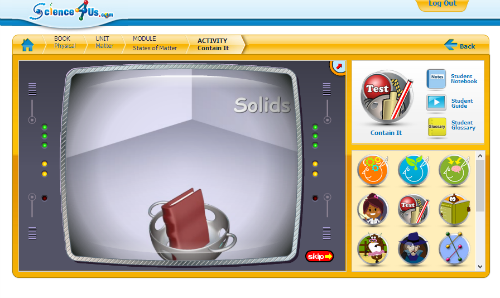 Activities are fun and engaging.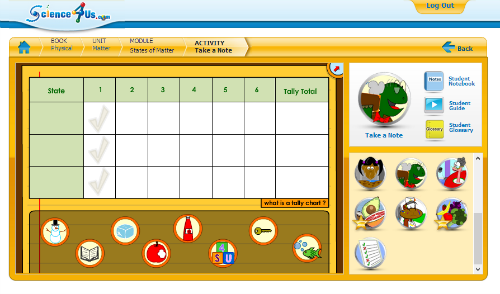 The graphics are bright and colorful.
The teacher/parent also has an individual login. There are several components built in to help the parent utilize the program to its fullest. There are teacher support materials that explain what the lessons are about. There is a lesson plan option that allows the parent to easily discover what each lesson is about, as well as download extension activities to go along with the program. Activities can be previewed, so you can see exactly what your child will be doing. Lessons can easily be assigned to students.
My favorite feature, though, are the student reports. You can see how many times your child has logged on, as well as the amount of time spent in the program. You can see what activities they've completed from each module. You can also view your child's online science notebook. You can see all the work they've saved, and how they're progressing in the program. I enjoyed looking at these digital notebooks as much as I've enjoyed looking a work my boys have done with paper and pencil.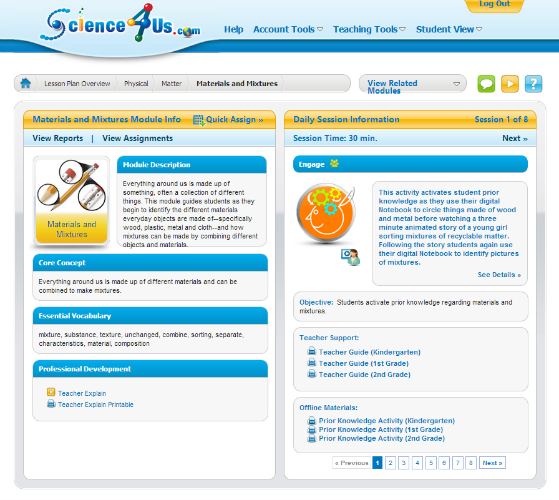 Since my boys are on the older end of the age range, I let them choose which activities to work on, and they were able to work independently as I'd hoped. My only requirement was that they worked 30 minutes a day. I checked their student notebooks and the time they spent on the program, and we talked about what they were learning.
Since beginning, Science4Us.com has been a success in our homeschool. Both Micah and Nicholas asked to work on the program outside of school hours, as well as at the end of their school day. It kept them engaged and learning, even though it wasn't overly challenging, and reinforced things they've previously learned. I think they might have learned a more brand new things if they were younger instead of on the older end of the age range. However, it's hard to argue with a program that your children ask to work on. If you have a child in early elementary, I would definitely check out Science4Us.com.
Check out Science4Us.com on these various platforms: