Rea
ding Kingdom
is an online program that teaches reading and writing through a 3rd grade level. This program costs $19.99 per month, or $199.99 a year. Additional students can be signed up at $9.99 per month, or $99.99 a year. For the purpose of this review, I was given a full subscription for up to 3 children. I used it with Nicholas, who is 7 years old and entering 2nd grade.

Reading Kingdom is designed for use by children ages 4-10, as well as struggling learners. It begins by teaching preschool skills, such as identifying letters and left to right tracking. Each level works on keyboarding skills, word recognition, reading comprehension and punctuation. By the end of the 5 levels, your child will be familiar with 950 total new words.
Reading Kingdom teaches reading through a system developed by
Dr. Marion Blank
. It is neither a phonics nor a traditional whole language approach. Instead, it teaches reading through a set of 6 skills (you can read more about her philosphy
here
):
Sequencing
Motor Skills
Sounds
Meaning
Grammar
Comprehension
Reading Kingdom is customized for your child. To begin, the child takes an assessment to determine where to start in the program. After this initial assessment, the program will pay attention to what your child knows and further customize the lessons. Because of this customization, parents are reminded to not give any help to their child.
The screens are bright and colorful, without being busy or overwhelming.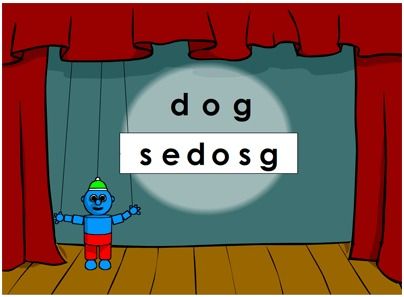 To complete the exercises, the child can either use a physical keyboard, or use the mouse and an on-screen keyboard.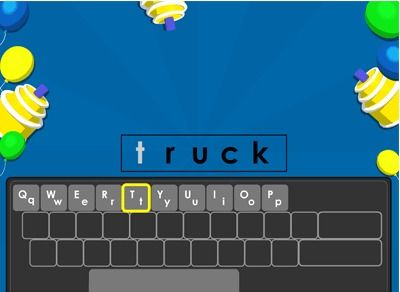 Unfortunately, Nicholas didn't really enjoy this program. He didn't have any trouble with the reading or spelling, yet he was placed at a lower level. The first time he took the Skills Survey, he was placed in Level 1. Knowing his reading level, I was surprised and asked the Skills Survey to be reset. This time I typed for him, having him say the letters for all the words, along with ending punctuation. As soon as I didn't hit the period key in time, the survey stopped and he was placed into Level 2 (again, below his reading level). I decided to go ahead and have him just start lessons on this level. He found the program frustrating because there is no way to correct mistakes. Once you hit a key you are locked into that answer--no backspacing is allowed. I understand that being able to use a keyboard is important in this day and age, but I don't really see how it should be this closely tied to learning to read. I believe a lot of his frustration could have been solved by allowing him to correct typing mistakes.
I do really like the Reader Report:
This one page makes it easy to tell exactly where your child is in the program and how they are doing.
If you are intrigued by the program and would like to try it out, there is a free 30 day trial available. You can also check out
more reviews of Reading Kingdom at the
Schoolhouse Review Crew
.