I really thought that after homeschooling for for 9 years, I had at least heard of (even if I hadn't obsessively researched) every homeschool friendly writing program. But boy, did I miss a great option. At $40 per grade level,
Essentials in Writing
is an affordable writing program that includes DVD instruction for the student.
There are levels available for grades 1-12, and I received the
Essentials in Writing Seventh Grade
program to review. I used this program with Luke (13/8th grade) and Ezekiel (12/7th grade). Luke doesn't mind writing; Ezekiel isn't a huge fan of the process.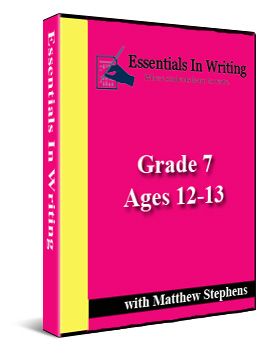 Review of sentence types and structure
Grammar review
Writing personal letters and business letters
Parts of a paragraph and writing a paragraph
Compare and contrast essay
Expository essay
Revision process
Research project
and much more!
This course should take 120-130 days, or up to 150 if you do the grammar review. At the 7th grade level, the program moves grammar instruction to an optional review (grades 1-6 begin with grammar instruction). There are 53 video lessons, and 143 workbook pages. The video lessons are included on DVD, and the workbook pages (
sample workbook page
) are provided in PDF format for printing (or you can buy a preprinted workbook for $20). The first lessons cover clauses, compound and complex sentences, prepositional phrases, and appositives, and then the student moves into learning paragraph structure, mechanics, and figurative language. Following these lessons, the student transitions into longer writing assignments.
We spent about 30 minutes a day on the program. If there was a DVD lesson for the day, we watched the lesson together. Lessons are not long at all, and the teaching is clear. Luke & Ezekiel would then do the corresponding worksheet for the lesson. Sometimes there is more than one worksheet per DVD lesson, and we would complete those over the following days. The lessons are broken down into bite sized chunks, so no one day or project is overwhelming.
Remember how I said that Ezekiel wasn't a fan of writing? I noticed early on that he wasn't complaining about this program--not even when he had to write a longer personal narrative. Not only did he not complain about the program, he gave it a rave review when I asked his opinion before starting this blog post. He said that the teacher (Matthew Stephens) is the best writing teacher he's ever had. He also told me that he finally understands how to revise what he's written. He recommended that I buy the lower levels and use them with his younger brothers, and he wants to keep using the program. All of this from a kid who does not like to write. Luke agreed with everything Ezekiel told me--he enjoyed the program as well, so it worked well for him, too. I liked that it removed me as teacher, that it isn't time consuming, and that I saw real improvement from when we started the program until the writing of this review.
I really don't know how I missed this program over the past several years. If you haven't yet taken a look at it, you should check it out.
For more reviews of Essentials in Writing (all levels), visit the Schoolhouse Review Crew blog.
Disclaimer: I received a free copy of this product through the Schoolhouse Reveiw Crew in exchange for my honest review. I was not required to write a positive review, nor was I compensated in any other way. All opinions I have expressed are my own or those of my family. I am disclosing this in accordance with the FTC Regulations.