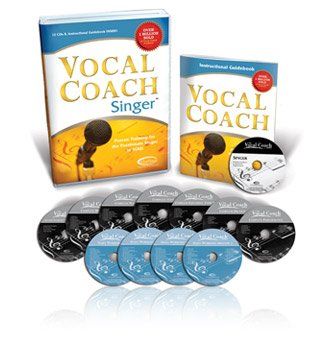 Confession: I can't carry a tune in a bucket. I like to sing, though, so that presents a problem for those around me. I've been told that I could probably sing well if I had a bit of training, but the time or money isn't in the budget.
The Vocal Coach Singer includes the following mp3s:
Getting Started
Complete Breathing
Complete Warm-Up
Complete Tone
Complete Expanding Your Range
Complete Diction
Complete Performance
Daily Workout High Voice 1 & 2
Daily Workout Medium/Low Voice 1 & 2
along with these printable PDFs:
Instructional Guidebook
Lead Sheets (each exercise with track number)
Singer's Journal
Song Evaluation
The Instructional Guidebook provides a general introduction to the course, and it should be read first. The next thing is listening to the Getting Started mp3. This gives a brief introduction to each of the remaining mp3s.
The Complete Breathing, Complete Warm-Up, and Complete Tone mp3s are the foundation of the program. They explain the how and why behind breathing and posture, warming up the voice, and tone, and then move along to present exercises for each of the topics.
The Complete Expanding Your Range mp3 explains range and helps you to determine your current range, and then provides exercises to help you increase your range. The Complete Diction mp3 explains what diction is (pronunciation, enunciation, and articulation). Good diction is important for a singer because it helps with tone and pitch. The Complete Performance mp3 guides you through choosing songs that suit you, picking the right key, as well as other important details, like gestures and facial expressions.
The Daily Workout mp3s guide you through working out your voice. The singing exercises vary in difficulty, and the first time through the vocal coach, Chris Beatty, sings it with you. The following times, he'll give you verbal instructions on how to sing the exercise.
I learned a lot about using my voice as an instrument. I never realized that posture and breathing were so important to singing well. The tone exercises help eliminate issues that might make your voice sound unpleasant (twangy, nasally, etc.), and it also explains vibrato and how it should sound and be used.
I've got to admit, I felt a bit silly during a lot of the exercises. Practicing these in the privacy of my own home was a definite plus. I still don't have a fabulous voice, but I could tell a difference when I followed their instructions and practice. I think with even more practice I can sing to my heart's content without being embarrassed. If you'd like to learn to sing, or if you can sing and you'd like to improve your voice, check out Vocal Coach Singer.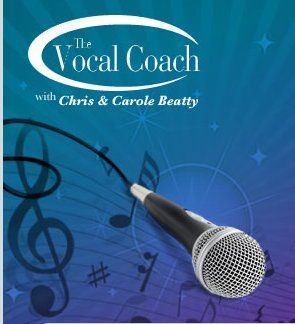 For more reviews of
The Vocal Coach
products, go
here
.
Disclaimer: As a member of the TOS Crew, I received this product, at no cost to me, in exchange for an honest review. All opinions are mine.