Institute for Excellence in Writing
is a well known company in the homeschool community. In addition to writing programs, they produce spelling and poetry resources as well. The Schoolhouse Review Crew was given the opportunity to review their reading and writing program for early elementary students,
Primary Arts of Language.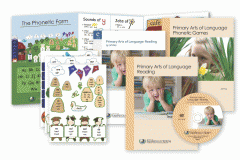 The Primary Arts of Language Complete Reading Package contains:
Reading Teacher's Manual
Reading DVD-Rom
Phonetic Games
Phonetic Farm Folder
The Teacher's Manual contains all 80 lessons for the program. Lessons are laid out clearly in list form (
view a sample
). They are not scripted, but instead give you bullet lists for each section of the program.
The DVD-ROM contains the Student eBook to print out, a video by author Jill Pike that explains exactly how to use the program, as well as helpful mp3s by Adam Andrews and Andrew Pudewa.
The Phonetic Games book (
view a sample
) includes all of the games used in the program. These are file folder games that are used throughout the program as a fun way of reinforcing the phonetic rules.
The Phonetic Farm Folder provides a fun and colorful way for the student to keep track of all the phonetic rules.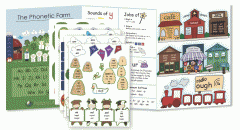 Nicholas' favorite part of PAL Reading




The Primary Arts of Language Complete Writing Program contains:
Writing Teacher's Manual
Writing DVD-Rom
All About Spelling Basic Interactive Kit
All About Spelling Level 1 Teacher's Manual
All About Spelling Level 1 Student Materials Kit
The Writing Teacher's Manual (
view a sample
) contains the lessons to the writing portion of PAL. It is broken down into 3 parts: Printing and Story Summaries (31 lessons), Copy Work and Style (40 lessons), and Composition with Style (16 lessons).
The Writing DVD-Rom contains a video by author Jill Pike explaining how to use the program, Student e-Book (
view a sample
) to print out, and mp3s by Adam Andrews and Andrew Pudewa.
All About Spelling
(
view a sample
) is a popular spelling program that teaches spelling though teaching the phonograms. It is a multi-sensory program, using phonogram magnets that allow your child to manipulate the phonograms as they learn to spell.
As you can see, there is a lot of parts to the program. A single lesson using both PAL Reading and PAL Writing has you and your student:
Read and discuss a poem
Mark up and discuss words in the poem
Teach and review phonograms
Write an entry in a journal
Read practice sentences
Complete a writing lesson
Play a game or two
Add to the Phonetic Farm
Complete Student worksheets
It is suggested that you break up the lessons throughout the day.
Even though Nicholas was just starting to read when we began this review, I started at the beginning since I had not taught him the phonograms. He enjoyed the poetry in the lessons, the worksheets, and the Phonetic Farm. Because the phonograms are presented through poetry, he didn't feel like he was moving backwards in his reading instruction.
I'm a huge fan on the writing portion. I've been trying to get Micah (8) and Nicholas to form their letters properly for a long time. In this program, each letter is given a story to help the student remember how to form the letters. Both Micah & Nicholas now form the letters we've covered properly. Beyond the handwriting portion, the story summarizing introduces (without being intimidating) young students to plot, character, setting, action, and conclusion. Once a student can summarize these things orally, they can move along to writing a retelling of a story or event following the same model. Students are taught proper capitalization and punctuation, as well as how to write key word outlines.
All About Spelling isn't introduced until Part II of the writing program, and we didn't make it that far during the review period. However, I have confidence that it will work very well for Nicholas. The lessons are scripted and clear, which will make it easy to teach, and I think Nicholas will enjoy the colorful tiles and hands on aspect of the program.
I was a bit intimidated by all the parts of the PAL program, but it turned out I didn't need to be. After a couple of lessons we easily fell into a routine, and Nicholas enjoyed the varied activities. PAL has been a hit in our homeschool, and I look forward to continuing the program.

For more reviews of IEW's Primary Arts of Language, go
here
.
Disclaimer: As a member of the TOS Crew, I received this product, at no cost to me, in exchange for an honest review. All opinions are mine.