Every now and then a product comes along that really, really excites me.
Roman Roads Media
has released one of these products:
Old Western Culture: The Greeks
. The subtitle to this DVD course is "A Christian Approach to Great Books".
That's right--I said a DVD course that is a Christian approach to Great Books. Now maybe you understand my excitement!
Way back when I was just starting our homeschool journey with Luke, I knew I wanted to give my sons an education using the Great Books as they entered Junior High & High School. As time went on I never waivered in this goal, but our family ended up consisting of five closely spaced sons, I ended up with a chronic autoimmune liver disease, and last December I felt like God was nudging me to take a part time job at our church. Combine these circumstances with the fact I did not receive the kind of education I wanted to give my boys, and I was struggling to provide what I'd hoped to.

Enter Wesley Callihan & Roman Roads Media.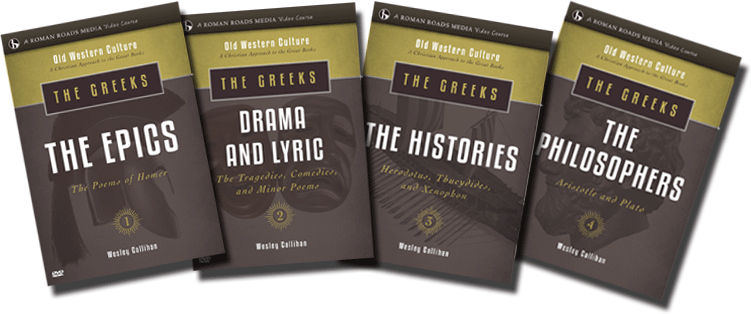 Wes Callihan is the highly qualified teacher on The Greeks DVDs. He has a degree in history, has taught in many classrooms, has written Great Books study guides for Veritas Press, speaks at homeschool conferences, and is founder of Schola Classical Tutorials. All this to say, he is passionate about the subject matter he teaches. His love of the Great Books shines through, and he's a wonderful teacher.
What exactly is Old Western Culture: The Greeks? It is a four part DVD series that is a complete literature and social studies course for students in grades 8 and up. This program was created for homeschoolers, so it is extremely homeschool friendly. Each unit has 12 video lessons that are about 30 minutes each, for a total of 48 video lessons. These video lessons aren't boring lectures, either. As mentioned above, Wes Callihan is an engaging teacher who loves and knows the subject matter, and the lessons are full of wonderful graphics and artwork.

Each of the following four units can also be used as a stand alone unit, and as such, they can be used in any order:
The Epics: The Poems of Homer

Drama and Lyric: The Tragedies, Comedies, and Minor Poems

The Histories: Herodotus, Thucydides, and Xenophon

The Philosophers: The Works of Plato and Aristotle
If you do all four units, your child will read Homer, Plato, Aristotle, Herodotus, Thucydides, Sophocles, and more throughout the year.
In addition to the instruction, each part contains a PDF workbook, a Teacher's Edition, and needed texts in PDF format. There is also an exam for each part, and writing assignments for your student. Each DVD unit also contains a "Guide to the Art" booklet. For $224, you have access to all that you need for the year. Roman Roads does suggest that you purchase physical copies of the books read throughout the course, but if you choose not to, everything you need is included.

You can also purchase copies of the workbook if you'd rather not print them. I received a hardcopy of The Histories workbook. It is a spiral bound black and white workbook (with a color cover), and the answers are in the back of the workbook. I have a black and white laser printer, and for our family I see no benefit in ordering a pre-printed workbook. However, if you choose to do so, this is a quality product.


Now that I've described what it is, how does it work? Luke and Ezekiel both fall in the suggested age range, and we began with the first unit, The Epics. In this unit, your student will read both The Iliad and The Odyssey. This unit has a schedule available for download on the
Roman Roads
website, while the other units have a schedule printed in the included Art Guide. This schedule shows a recommended nine week schedule, working 5 days a week. We followed this schedule pretty closely (we began with The Epics unit), though since it is summer we didn't always work 5 days a week.
The first lecture of each unit is an introduction to the topic of the unit. After watching the introduction, there are study questions in the student workbook for the student to answer. An important point to note is that on each DVD there is a link on the menu for the study questions. If your student has any trouble answering the questions, they can simply go to the study question link, find the appropriate question, and re-watch the pertinent portion of the DVD lecture.
After the introductory lesson, the student then begins to read the books for the unit. Some days the student simply reads; other days the student will answer questions in the workbook about their reading; other days they will watch a video lecture about what they are reading and will answer questions in the workbook about the lectures.
The student is asked to write one paper for each unit. According to the recommended schedule, they should take about 3 weeks to write the paper. It is suggested that the paper be about 750-1200 words long. In each workbook, there are several discussion questions, and if your student is struggling to come up with a thesis statement, they can use the discussion questions as a starting point for their paper.
Each unit also has a final exam. These are available on the Roman Roads website. If your student doesn't make a satisfactory grade on the exam, Roman Roads provides an exam B on the website as well.
I mentioned above that there is a "Guide to the Art" booklet included, and that the DVDs have wonderful artwork. Throughout the lectures, related artwork is shown on the screen. The "Guide to the Art" booklet contains full color reproductions of all this artwork, along with the title, artist, and information about the artwork and/or artist, meaning there is a mini art history course included as well.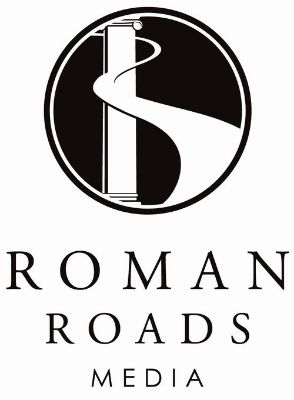 Two years ago, Luke, Ezekiel, and I studied the ancients. We were supposed to read The Odyssey, but I was intimidated. It is not a skinny book, and it's not written in a style that I'm comfortable with. This meant I was unsure how to approach this book with them, so we skipped it. However, now that we're going through The Iliad with Wes Callihan, I look forward to tackling The Odyssey next with the boys.

While you could turn your student loose with the DVDs and reading, the parent is encouraged to watch the lectures and have discussions with their child. I like that following this model, we are all learning together. During one of our first discussions using the discussion questions in the workbook, the boys assumed I had the answers in my notebook. The discussion questions do not have answers in the Teacher Edition, which meant (as I had to explain to them) that I was having to use my brain to think about and discover answers alongside them.

Luke and Ezekiel are both very good readers, however Luke tends to be a slower reader. The amount of reading is stretching Luke (in a good way), and having the suggested schedule helps me to see what a reasonable amount of reading is for a typical student. We have found that following the schedule means that we're working on this 60-90+ minutes a day. I think this is a fabulous use of our time, though, considering all that we are learning.

I appreciate that the program approaches these Great Books from a Christian perspective. It is recognized that even though the authors were not believers, they still had worthwhile thoughts and ideas and is not afraid to tackle these head on, using a Christian worldview.

We're all enjoying this program, and we're all learning so much. This program has made doing a Great Books study possible for our family; not only has it made it possible, it has made it possible to do it well and I am so excited about continuing with the next 3 years (The Romans, Christendom, and Early Moderns) of Old Western Culture.