Goldtown Adventures is a new historical fiction series, written by Susan Marlow. They can be purchased at Susan Marlow and Kregal Publications for $7.99 each. We received the second book in the series,
Tunnel of Gold
.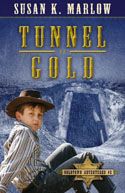 The Goldtown Adventures series is set in the 1864, which is near the end of the Gold Rush in Goldtown, California. In Tunnel of Gold, Jem is caught in a miners' riot when the mine runs out of gold. The miners want to reclaim an airshaft to try and get the mine running again, but the Chinese miners have been lawfully working this area. Tough decisions have to be made when his father, the sheriff, is told that he needs to kick the Chinese miners out of their mine or lose his job.
Author Susan Marlow (a twenty year homeschooling veteran) has spent time travelling in California, visiting old gold camps and learning how miners lived. She puts this knowledge to use in her Goldtown Adventures series. The books are written for ages 8-12, and Tunnel of Gold is 144 pages long. The book is broken down into 18 chapters, which keeps the chapters short enough that reluctant or new readers aren't intimidated, and also makes them a great length for reading the book aloud.
Tunnel of Gold is a very fun read. I was concerned that we might not fully understand the plot, since it is the second book in the series, but that wasn't an issue at all. The plot is engaging, and it was hard to stop at the end of a single chapter. I like that it's a wholesome story, with good values taught.
Whether you're studying the Gold Rush time period, or just looking for a fun adventure series, check out the Goldtown Adventure series from Susan Marlow.

For more reviews of Susan Marlow's Goldtown Adventures books , visit the
Schoolhouse Review Crew
.