Several months ago, Micah asked to learn Latin like his brothers. I told him I would check into it, got sidetracked, and never decided what to use. We were both excited when the opportunity arose to review
Prima Latina
from
Memoria Press
. This introductory Latin program is aimed at children in grades 2-4.
We received the complete set (priced at $90.90), which includes:
Student Book
Teacher's Manual
Pronunciation CD
Instructional DVDs
Flashcards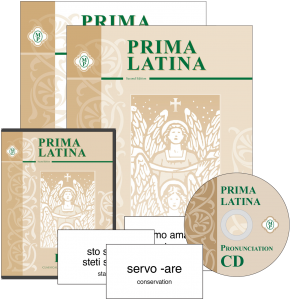 Prima Latina is an introduction to Christian Latin. The program is divided into 25 lessons, with a review lesson after every 5 lessons. Students will learn 5 Latin vocabulary words in each of the 25 lessons, along with basic Latin grammar concepts. They also learn the English derivatives of the vocabulary words. In addition, students will learn 25 practical Latin expressions, 4 prayers, the numbers 1-10, and the names of popular constellations.
The Student Book is printed in two colors, and is very streamlined and uncluttered. Lessons include review questions, questions for the current lesson, translation, a section that guides the student through practicing speaking the Latin they're learning, a section for practicing writing the Latin words and definitions, and then a little fun practice section. The Teacher's Guide contains a grammar overview for the teacher, teaching guidelines, tests, as well as an exact copy of the Student Book with answers filled in. The flashcards contain all the words for Prima Latina, as well as the flashcards you'll need for the next Memoria Press Latin program, Latina Christiana.
The audio CD contains pronunciations (this program uses Ecclesiastical pronunciation) for each lesson, along with 4 hymns from Lingua Angelica. The DVD set contains 9 hours of instruction. Leigh Lowe guides the student through each lesson, explaining the lesson, providing recitation practice and review.
This program has been a total success here. I've been using it with Micah (going into 4th) and Nicholas (going into 2nd), and they both really enjoy it. While I could teach the material, I love having the DVD to free up some of my time. Leigh Lowe does a fabulous job teaching, and I only have to review the lesson with the boys after they've watched it. While there is writing in the program, it is not overwhelming. Micah hates writing, and he does the work in Prima Latina without complaint. We've worked on the program about 3 days a week, and we usually spend about 30 minutes on it. Micah and Nicholas ask to do Latin, and when I asked their opinion before I sat down to write this review, they both told me they "love it" and gave it "two thumbs up". Can't beat that!

For more reviews of Prima Latina (and Memoria Press's Geography I program), visit the
Schoolhouse Review Crew
.