Spanish for You!
is a Spanish curriculum for grades 3-8. Spanish is taught through themed units, and the units can be done in any order. I received the
Fiestas
unit to review, which centers around celebrations (check out the
Fiestas
samples pages). The other available full package is Estaciones, and it centers around the seasons. Viajes (centers around travel) is available as a 4 or 6 week trial, but will be available as a full unit in June 2013.
I received the full grade 3-8 package, which is priced at $64.95. Included in this package is a softcover book, along with lesson guides for grades 3-4, 5-6, and 7-8, worksheets, and audio files. Packages for each level can be purchased individually for $34.95, and extra books are available for $12.95. The lesson guides, worksheets, and audio files are downloadable products.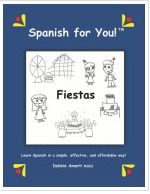 Spanish for You! is unique in a couple of ways. First, the fact that each unit is developed around themes, as outlined above. Second, this program allows you to teach children of different ages and abilities at the same time. Since the worksheets and lesson guides are broken down by grade level, but all use the same textbook, it's very easy to teach at different levels. I used this with all 5 of my boys (grades 1, 3, 5, 7, & 8), by using the grades 3-4, 5-6, and 7-8 levels. It was surprisingly easy to do.
The Lesson Guides are broken down into weeks (30 for grades 3-4, and 24 for 5-6 and 7-8). Weekly lessons are broken down into four days worth of lessons. In general, this is how the program worked in our home. Since we only had one softcover book, I made good use of our large whiteboard. I wrote all the vocabulary words and translations on the board. We listened to the pronunciation on the audio files, and recited and worked on our pronunciation while reading the words on the board. We also worked on Common Words and Phrases by asking each other the questions and answering in Spanish. I had each boy make their own flashcards for the vocabulary words, and I encouraged my younger boys to draw pictures on their flashcards. After our oral practice, each child completed any worksheets for their grade level. The lesson guides also include games to help reinforce and teach the lessons.
While I think this is an excellent concept, there were a few issues I had with the worksheets. The first is that the worksheets are self checking. This meant that when I printed the worksheets out double-sided, the answers were on the back of the sheet. It didn't take long for my boys to discover this,and as my 13 year old said, "This might be for self-checking, but it also encourages cheating!". My boys have access to answer keys to check their work, but having the answers on the back is a huge temptation when you're trying to finish your schoolwork. I told them not to flip the sheets over until they were done, but I'd rather have a separate answer key. The second issue was that it was more complicated than it needed to be to print, since I had to print one sheet at a time, instead of having an option to print the whole workbook. The final issue was it wasn't always obvious and easy to grab the correct worksheet once they were printed out. There are no page numbers on the sheets, so you're going simply by the Spanish title on the worksheet. All of the issues I had are able to be overcome, but they were enough of an annoyance the I felt I needed to mention them.
Now, setting those issues aside, I would recommend this program. It covers vocabulary, grammar, conjugations, and pronunciation. I liked that there is Spanish to English and English to Spanish translations on the worksheets. Being able to teach all my boys Spanish together was a lot of fun, and not having to adapt the lessons myself for the wide ability level was wonderful. They learned a lot from the program, and we really enjoyed working together on it.
For more reviews of Spanish for You!, visit the
Schoolhouse Review Crew
.