EGM Educational Systems, LLC
recently sent their
READS Parent/Child Reading Comprehension System
for me to review. This system was developed by a certified reading specialist, Elaine Meyers. READS stands for "Really Easy and Dynamic Strategy", and this is what Ms. Meyers aimed for when she developed this reading comprehension system.
READS targets children in grades 1-4. It works with anything your child is reading to help you gauge whether or not they understood what they've read. The kit is $19.95, and includes:
READS Parent's Manual
Question Cards & Ring
Rewards Chart & Stickers
Magic Finger & Reading Guide Strip
Speedy Speller
Reusable Storage Pouch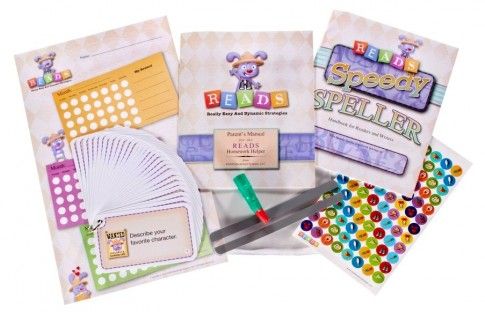 The 16 page Parent's Manual explains how to use this program with your child. The reward chart & stickers can be useful for children who are motivated by goals and rewards. The Speedy Speller includes 1400 words and abbreviations, and includes spaces for children to write in words they need help remembering how to spell. The reading guide strip and magic finger help children keep track of where they are on a page.
The 30 question cards are the meat of the program, though. Sample questions are:
"Summarize the important events in the story."
"Tell one way the main character is similar to you and one way the main character is different form you."
"What surprised you when you were reading?"
"Would you recommend this book to a friend? Give a reason."
I used this program with Nicholas, my 7 year old. His reading has taken off, and this has given me an easy way to know if he's actually understanding what he's reading. I would read him the question before he started reading his book for the day, and after a couple of days of questions, he started coming to me asking me what his question for the day was. He would also often randomly answer previous questions throughout the day. I was surprised that he enjoyed the questions so much, but he did. He's an eager reader, so we didn't utilize the reward system, and he's not writing compositions yet, so he didn't need the Speedy Speller. He was very tickled by the magic finger.
I like that READS doesn't require any prep work from me, and the questions allow me to keep track of his understanding of the books he's reading. The materials are high quality, and the little bunny mascot is adorable and inviting. If you have a student in early elementary, I'd recommend taking a look at the READS program.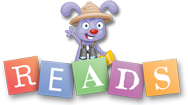 For more reviews of READS Parent/Child Reading Comprehension System, visit the Schoolhouse Review Crew blog.
Disclaimer: I received a free copy of this product through the Schoolhouse Reveiw Crew in exchange for my honest review. I was not required to write a positive review, nor was I compensated in any other way. All opinions I have expressed are my own or those of my family. I am disclosing this in accordance with the FTC Regulations.