Handwriting Without Tears
is a gentle handwriting program for children. This program goes from Pre-K through 5th grade. I was sent the
First Grade
Teacher's Guide ($9.25) and Student Workbook ($8.25) to review.
I used this program with Nicholas, who is in first grade. He's not reluctant about writing at all, and never complains about having to write anything down. However, he taught himself how to form most of his letters. To say his letter formation is unconventional would be an understatement. However, he's also boy #5, and while I've always got plans to fix his penmanship, it's difficult to find the time. Handwriting Without Tears states that handwriting can be taught in 15 minutes a day. I found that it didn't even take us that long.
The Teacher's Guide is 182 pages long, and contains the philosophy, teaching tips, and lesson plans for the first grade student workbook (sample pages can be downloaded
here
). There are suggestions for extending the handwriting lessons into other areas; for example, on the lower case "h" page, you are to encourage your student to color the horse on the page and add grass and hay, make a list of words that begin with h, and count the horse legs and try to figure out how many legs there would be if there were 2, 3, or 4 horses on the page. The Teacher's Guide also provides a passcode so you can access online activities: downloads, practice pages, remediation guidelines, and more.
My Printing Book
is the name of the Student Workbook for first grade. It is 94 pages long, and is printed in black and white (sample pages can be downloaded
here
). The amount of writing required per page is minimal. The student is encouraged to do their best on each and every letter.
Nicholas made it through about the first 25% of the book. We usually did a page per day, focusing on correct and well-done letter formation. He enjoyed the lessons, and his penmanship for the letters we covered is improving. I didn't find the Teacher's Guide to be very helpful, but that might be because I'm working with a non-reluctant writer. If you're nervous about teaching penmanship, or if you've got one who doesn't like handwriting, then you should check out the Teacher's Guide for ideas. I think
Handwriting Without Tears
is a well done penmanship program, and I'd recommend that you check it out.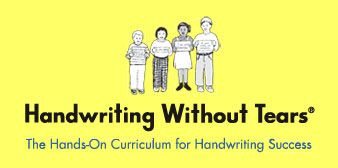 For more reviews of Handwriting Without Tears, visit the Schoolhouse Review Crew blog.
Disclaimer: I received a free copy of this product through the Schoolhouse Reveiw Crew in exchange for my honest review. I was not required to write a positive review, nor was I compensated in any other way. All opinions I have expressed are my own or those of my family. I am disclosing this in accordance with the FTC Regulations.