If you know me, this will not come as a surprise. I am not a girly-girl. I don't enjoy spending time fixing my hair or applying makeup. On the other hand, I feel these things are necessary for me to look my best. My solution has been to simplify this process as much as possible. I wash my hair, put product in it, and let it air dry. For makeup, I like to quickly apply foundation, blush, eyeshadow, eyeliner, and mascara. Just enough to give me some color and at least make it look like I attempted to get rid of the run-ragged-homeschool mom look. Not surprisingly, I don't enjoy shopping for makeup either, so I was thrilled when the opportunity to review Beeyoutiful makeup came up. It doesn't get any easier than makeup shipped right to your door!
Beeyoutiful
created 100% mineral makeup that is all natural and gluten free. I was a bit nervous about picking colors from my computer screen, but it worked out quite well. I received samples of my top three foundation choices before I chose my final color. The color I settled on was the first color I picked as a sample (samples are available for $1 each). I'm very pleased with my foundation color, as well as the eye color.
All of the Beeyoutiful makeup is in powder form. It's so lightweight, I forget I'm wearing it, and it takes just a tiny bit for all over coverage. The foundation brush feels like silk on my face when I'm applying the foundation. I have dry skin thanks to living in a dry climate, so I use a moisturizer daily. After I put on the moisturizer, I apply the foundation (Beeyoutiful suggests you use a toner, but I don't have any so I just used my regular moisturizer). It does a great job of evening out my skin tone. If there are any blemishes on your skin, you can also create concealer from the foundation to help cover them up.
I've never used a mineral eye shadow before, but I have to say I love it. I chose Cinnamon Sparkle, and apply it over my entire lid (it doesn't get any easier!). Again, I'm shocked at how little it takes to do both eyes. Just using the mineral shadow alone creates a very sheer look; you can also foil the shadow by mixing it with water. This creates a bolder look with the shadow. You can also use the shadow as an eye liner by using the foiling technique.
I don't normally wear anything on my lips. For this review, though, I tested the second sample they sent as a lip color. To apply as a lip color, you can mix the minerals with water or with a lip balm, depending on what kind of coverage you'd like (anything from a sheer lip gloss to a dark lipstick). The thought of putting powder on my lips was odd to me, but once I did it and covered it with lip balm, I was quite pleased with the lip gloss effect.
I'm hooked on this makeup. It looks great, is easy to apply, and holds up through an exhausting day of being a homeschooling mom. If you'd like to refresh your look, check out the products from Beeyoutiful.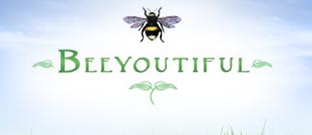 For more reviews of Beeyoutiful products, go
here
.
Disclaimer: As a member of the TOS Crew, I received this product, at no cost to me, in exchange for an honest review. All opinions are mine.